About us
ABOUT TEAM LV
WHAT WE DO
The team at LV WEDDING CONNECTION works with couples, tour operators and travel agents as a Wedding Destination Management company. We provide one point of contact for all your wedding needs in Las Vegas. Imagine this - you don't have to call a florist, photographer, transportation company, officiant, bakery or even a formal wear shop, because we handle all the details for you. Our wedding coordinators will help you with all your wedding plans. Give us a call 702-236-8728 , drop us an email (info@lvweddingconnection.com) or click the button below the video. We look forward helping your dream wedding become a reality....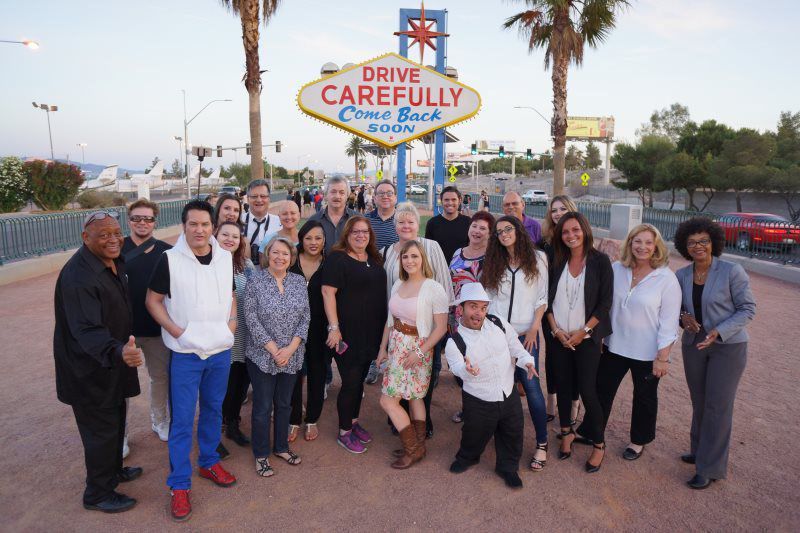 OUR TEAM
GREAT PEOPLE WITH GREAT SERVICE
We have someone for every aspect of your wedding on our team. We can help you with anything form the moment you land until your flight leaves. Please feel free to request anything Vegas related. If you cant find what you want on the site please fill out one of our online forms and a trained coordinator will get to you ASAP.
Joni Moss-GrahamLV
ABOUT OUR FOUNDER
Joni Moss-Graham is a career girl, recently married to the love of her life and mother to sons Matthew 30, and Brandon 21. She was first married to her high school sweetheart, Michael for 21 years and they are still a very close family.She was born and raised in Southern California within a show business life. Her divorced mom and dad were both involved in the Entertainment world, her father an employee of Jerry Lewis and her mom, manager of Nancy Sinatra's music company.
Early on, Joni knew whatever she chose as a vocation had to be within that world. She had the personality for it, unfortunately admitted no talent. She attended West LA Airport College to become a Travel Agency Owner and at the end of the course had realized that was not the road for her, but something in the tourism field.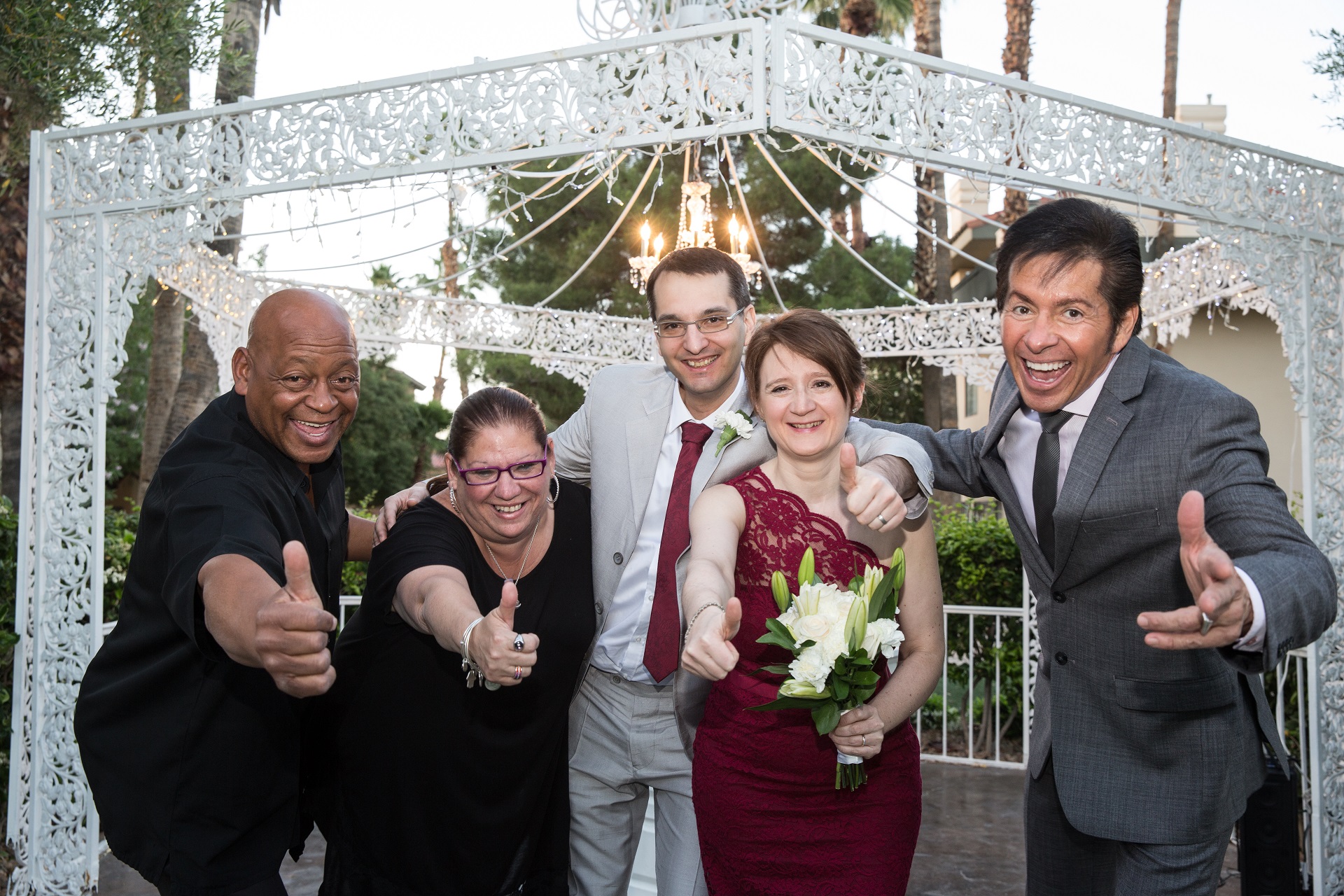 She had always been a creative person with attending Art School as a child so she took floral design classes and cake decorating classes and realized that the floral industry is where she wanted to be at this point in her life. She and Michael owned and operated their own flower shop for 8 years in Houston Texas. Since it wasn't her life's dream in 1991, when her mother and stepfather relocated to Vegas, Joni and Michael relocated as well. It was at that time she entered the wedding chapel business and that was it. She knew she wanted the glitz, the rush and dove into the 12 plus hour days with adrenalin. It is an amazing industry, and the rewards by seeing the happy couples, and realizing you had a part in making their vision come true is irreplaceable. "You are responsible for making Lifelong Memories for the wedding couple" states Joni, and "every couple as a special place in your heart ! " We make a difference in people's lives every day"
Today, Joni has her own wedding company called "LV Wedding Connection" which has been in business 13 years. This Company was founded on assisting Brides on all components of the wedding industry. From Chapel locations to formal wear, all needs can be fulfilled. With LV Wedding Connection. "I pride myself in giving the couple what they want to make it their special day." With one wedding at a time, we never forget that this is more than a business, it is a life-changing day for this couple and all of their special needs and requests can be met. Her newest venture is an extension of LV Wedding Connection. It is called PHOTO TOURS VEGAS. And this is all under their parent company J Team Events, LLC. Joni found that the same components were needed at other special events besides weddings, and thus founded J Team Events. Her husband is named John and when they are out working they consider themselves the "J Team", and that is where the name was founded. People seem to remember that easy.
Joni started her wedding experience with working at A Little White Wedding Chapel; Victoria's Wedding Chapel, Harrah's Wedding Chapel and then landed an awesome opportunity! To open with A Special Memory Wedding Chapel from its inception in 1996. She was the first one hired for this company as it was in the ground-breaking status. She lived those 9 years living and breathing A Special Memory, but as time changes so does owners. The original owners she opened with, sold the chapel in Nov. 2005, and when they left, she left with them. It was an era closed. A wonderful ride with many important stops along the way, built with lifelong relationships. Joni's favorite thing to discuss is about how wonderful it is to be involved in the wedding and event industry. "I just love my job, there's nothing like it." When you love what you do, it's not a job! Every day is exciting, unexpected, and fun!" What a great thing to see, happy people!!!! I get the pleasure of sharing in someone's "Life changing day". That is so rewarding a remarkable feeling.
Joni relishes in positive thinking and really goes on her instincts about people and business. She really believes we all have the power to bring into our lives what we need, and truly believes what is meant to be IS!
She is the founder of the "Nevada Weddings Association", started in 2005, and just recently changed the company to Nevada Weddings, as it is solely her project now to represent the industry without associate Board members. Representing the wedding industry for the state, she gives the industry a passionate person to call upon, generically when they need assistance for getting married anywhere in Nevada. Joni had the pleasure of spearheading the Wedding Industry to implement new regulations that would only help the industry to grow and better itself daily. Back in 2008 there were 2 new laws implemented as there was much inter turmoil within the industry with some unethical operations. Joni, along with other wedding partners was able to assist in implementing the new law of, when opening a new Wedding Chapel, the ordinance was put into place to purchase a privilege business license. That was able to weed out the unethical parties and locations. Secondly the hand billers at the Clark County Courthouse had a line painted whereas they cannot cross it to solicit to our tourists and accost them for their upcoming weddings. This was a great feat, and helped the industry immensely.
She sits on the Board of the Academy of Hospitality and Tourism, Past Chairperson for "Las Vegas Territory", board member for the "Community College Floral Association" as well as giving time to many charitable events. Her latest venture is teaching a class at the Community College of Southern Nevada in Wedding Planning. It is the first time that this class has ever been offered and Joni has a class full of interested students. She has created her own curriculumand the book for her class is available at the College Bookstore. The Community College has also just started the "Las Vegas Travel and Events Club" which Joni is one of the advisors with this new club.
One of the things she is most proud of is to be the recipient of the "Las Vegas Territory Award" from the State recognizing her contribution to Tourism. She has completed an interview for VH1's "Love and Hate" special, has played a small part as a minister at a drive up window, in "Pasty Faces" the motion picture as well as participating in many filming's and interviews for the wedding industry. Joni loves when she has the opportunity to share this wonderful industry with a journalist writing a story about Weddings in Vegas. She gets to tell all about the wonderful weddings Las Vegas has to offer. She has been in a documentary that shows her in action for one full day which aired in France, not to mention many television shows aired worldwide. That was a great opportunity to show how she cares about her clients, and what a day is, in the likes of planning and executing weddings.
She's energetic, a non-stop talker, great on interviews, and was interviewed on "The Wedding Hour", The" Bill Moran Show", just to name a few not to mention being featured in many articles and publications. A few of her most memorable events have been being involved in the Centennial 100 Weddings celebration, orchestrating the Renewal of Vows for the Mayor of Las Vegas and doing 82 weddings in a 4-hour period! That was quite a feat at 2 different properties, with clients from across the Globe. The Mayors' celebration was a huge event on the Third Street Stage of Freemont Street celebrating his 47 years of marriage as well as Las Vegas celebrating a huge wedding day in history...090909.
Finally, her goals are to continue her work and further her career out front instead of behind the scenes. She loves movies, the beach and purple and a very spiritual lady with her dynamic presentation, who prides herself in the fact that she stays away from confrontations. "We must be present every day in our lives and be grateful for all of life's opportunities, blessings and challenges" she says. I believe I am a "people" person, genuine and building a bond with my colleagues, and clients is what I do."
Joni is always positive, smiling, energetic and definitely upbeat. She will be happy to assist with all of your wedding and event needs and truly "connect you" to your vision.
---
JOHN GRAHAM
PARTNER
NICK NICHOLS
BUSINESS DEVELOPMENT MANAGER
BONNIE SANCHEZ
MINISTER
DEBBIE LANGDON
ACCOUNTING ADMIN
DIANE SCHILLER
RENTA-DRESS FORMAL WEAR
DANNY MACK
DJ
DIMOS
ELVIS MINISTER AND IMPERSONATOR
ETTI
PHOTOGRAPHER
CHERLY BALLARD
MAKE UP AND HAIR STYLIST
JONI MOSS-GRAHAM
OWNER
REV. BRENDA REEVES
MINISTER
GRIFFIN ROYALTY
PHOTOGRAPHER
MARTHA MACY
COORDINATION ASSISTANT
KARLI NICHOLS
SOCIAL MEDIA DIRECTOR
WANDA TRACEY
OFFICIANT
BRANDY DANCEL
PHOTOGRAPHER
LINDA QUACKENBOSS
PHOTOGRAPHER
BRIAN MILLS
MINISTER/ENTERTAINER
KELLY LANGDON
VIDEOGRAPHER
ROLAND AUGUST
MINISTER
MIKE GRAVES
PHOTOGRAPHER
DAVINA RICHARDSON
MAKE-UP AND HAIR STYLIST
MATISUN BARTON
SOLOIST
JESSE GARON
ELVIS OFFICIANT AND IMPERSONATOR
MIKE DANCEL
PHOTOGRAPHER
DOMINIC JOHNSON
VIDEOGRAPHER
JULIE BERGONZ
PHOTOGRAPHER