A group of Canadian Wedding Planners from " The Wedding Planners Institute of Canada Inc." were
In Las Vegas attending the WMBA Convention October 1-4, 2017.  LV Wedding Connection had the opportunity to show them a little preview about some of the things that is offered to our Brides and Bachelorettes coming to Vegas.  The evening started out by picking up the group in a 20 Passenger Party Bus from VIP LIMOUSINES.  The vehicle was filled with neon lighting, video screens, a pole for dancing and a great sound system. We were happy to escort the President and Vice President of the Canadian Association, who were featured speakers at the conference.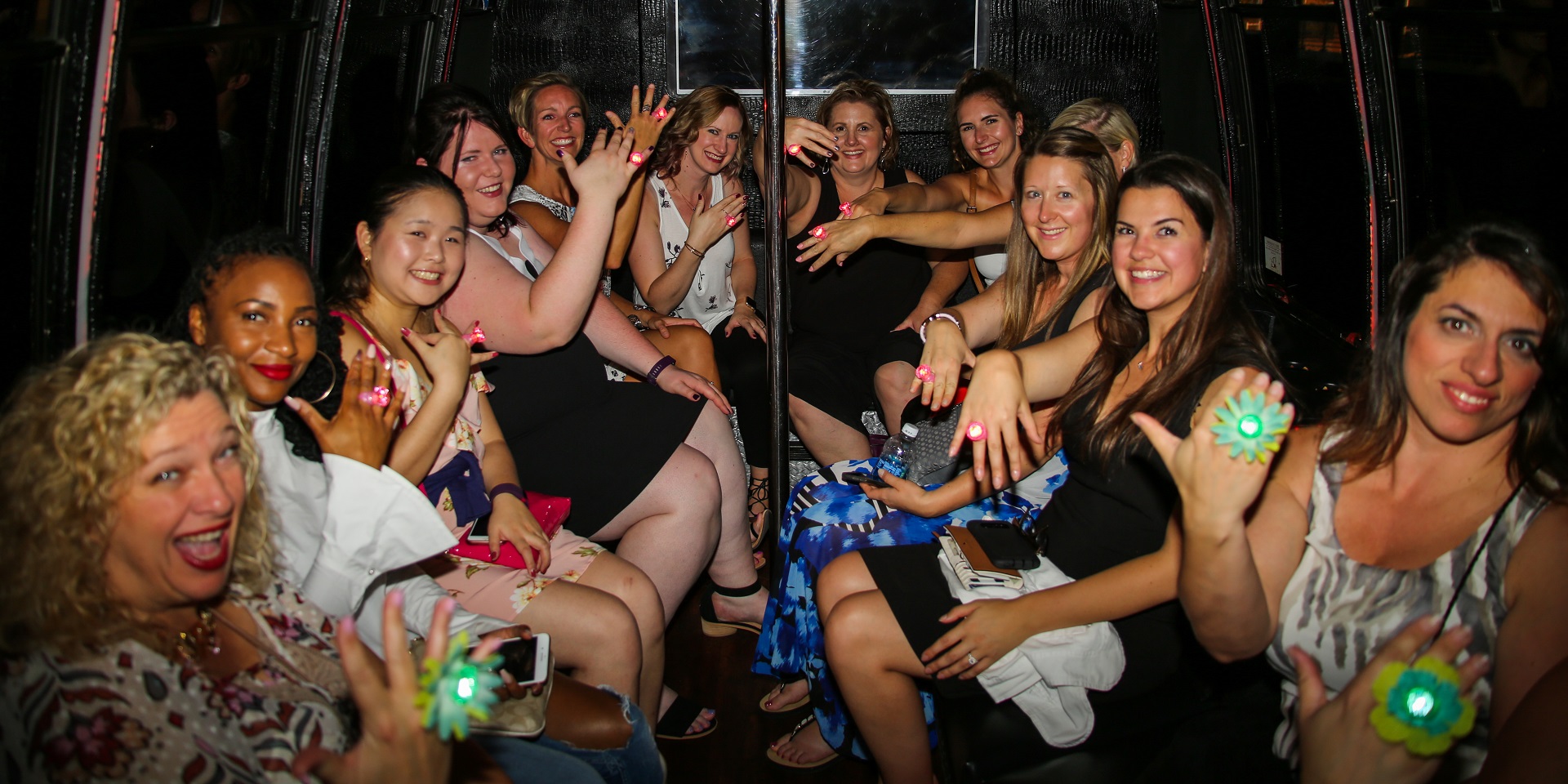 We were off to a One Hour Photo Tour, Provided by PHOTO TOURS VEGAS.  Photo Tours Vegas distributed props to all for the photo shoot.  Feather Boa's for the ladies and funny glasses to enhance the images for their posing debut at the world   famous Vegas Sign.  The second stop was larger than life letters...LAS VEGAS, where the girls popped the champagne and toasted each other!  The final stop was a place Photo Tours Vegas has named it "The Four Corners".  Here you can get photos done with backdrops of MGM, NY NY,   Excalibur and the historic   Tropicana.
Lastly the girls were treated to the MAGIC MIKE SHOW.  This is a show that appeals to Bridal Parties, Birthday celebrations, Bachelorette parties and Girls Weekends in Vegas.  This show has a story line, choregraphed dancers and a female host to appeal to women's sense of humor. The show is non  stop entertainment , unbelievable dancers, handsome men, which turns into screaming women!
LV Wedding Connection partners with Wedding Planners all over the world to assist them when having clients coming to Vegas for Weddings,  and Bachelorette parties.  Commission programs are in place, so everyone can attain revenue and have "boots on the ground" to help their clients and know they will be catered to as VIP's.
Contact :
Joni Moss-Graham
LV Wedding Connection
702-941-1889
www.lvweddingconnection.com
joni@lvweddingconnection.com