LV Wedding Connection and the Las Vegas Convention Visitors Authority (LVCVA) Laughlin, partnered in a specialized FAM September   of   2017 that was customized for wedding/bachelorette/celebration agents. Nevada is no stranger to weddings and romance travel, and we host more than 80,000 couples annually! This fam was to  show off Las Vegas and Laughlin ceremony locations, reception venues, and attractions, to enhance the Wedding Celebration Weekend or Bachelorette/Bachelor party!
The group was comprised of 15 agents and planners from  Arizona,  Michigan, Illinois, Wisconsin, Missouri, New York, and as far as Honk Kong, and Bogota Columbia.  Part of the group started attended the Pre Fam experience of Flightlinez at Bootleg Canyon  where they could experience 1.5 miles of zip lines over the course of four separate runs.
The host Las Vegas property  was Sams Town Hotel and Gambling Hall  , our base for the next 2 days! Sam's Town has recently redone their rooms, and they are truly amazing!  Our opening reception was overlooking Mystic Falls Indoor Park, where we were able to get to know one another and then enjoy a Buffet Dinner downstairs, site inspection on the property, and site inspection at their sister property next store, The Cannery!  You could not image on the top of the Cannery an amazing view, and great area for parties, wedding celebrations, receptions etc.  A hidden gem called ONE SIX SKY LOUNGE where we enjoyed libations and deserts.  There were reception tables set up , each one with a different look, color scheme and theme to showcase what they could actually create at this Rooftop venue.  After this the group was whisked away to Maverick Helicopters where they all experienced a Night flight over the Las Vegas Strip and rounded off the evening with a one hour tour from Photo Tours Vegas!  As they came of their helicopter flight, they were greeted by a Party Bus from VIP Limos, where there were funny glasses, Boas, and  props, to use during their photo session. They sipped champagne and experienced a professional photographer capturing their memories at iconic locations along the strip. What a way to kick of the first day of the fam!!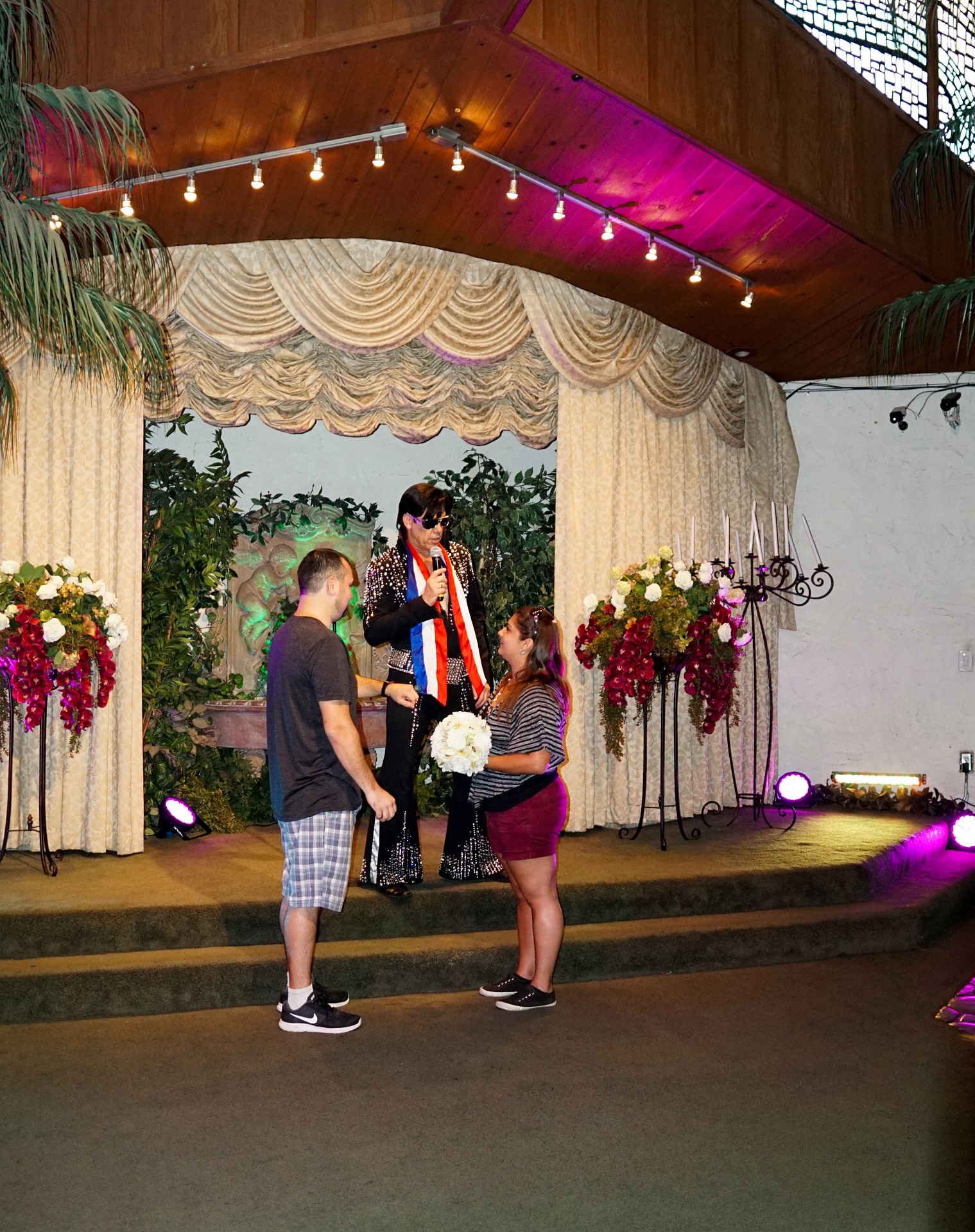 Up and out bright and early the next morning to enjoy breakfast and a site inspection at Jimmy Buffett's Margaritaville on the strip.  A boat filled marina in a tropical location is the scene that transports your group to the exotic destination of their dreams.  From a suspended airplane and themed bars to outdoor decks and a Las Vegas cutie sliding down a volcano into a Margarita glass, the authentic tropical setting has a boat load of island characters and Las Vegas fantasy.  No additional décor is needed to create your favorite island atmosphere.  Great live music and Margaritaville's signature island-inspired menu is easily enhanced to suite your groups preference.   The day continued with a drive on Chapel row to see many exteriors of wedding chapels and even experience a Drive-Thru Wedding Window. Next stop was Rent-a-Dress and Tuxedo, which is a family owned and operated business serving  the Las Vegas community since 1991, located in vibrant downtown Vegas.  The agents learned their unique ability to dress a Bride and Groom with their rental items all within one hours time. Off to Viva Las Vegas Wedding Chapel where they experienced something only found in Vegas.  Two of the agents graciously volunteered for the mock ceremony. Only they did not know they would get inside of a convertible pink Cadillac, and be escorted into the chapel by this vehicle , driven by Elvis.  The car drove them down the aisle, inside the chapel, greeted by neon lights, fogs and music.  They got out did a fun ceremony, where they exchanged Elvis Vows, blinking rings and danced to Viva Las Vegas. A fun experience to share with their Destination Wedding clients. Everyone worked up an appetite by this time, and we were off to the Hard Rock Café on the strip. Wedding ceremonies are performed on the outside patio, overlooking the strip. An amazing backdrop to a wedding ceremony, or cocktail party celebration!  A special section was arranged for the group with preset menus to choose from.  We got to experience bringing a group first hand, with food , cocktails and even left us with a souvenir! Off and running again! Next stop was deisgned specifically for the Bachelor and Bachelorette parties, The Range. This is the largest indoor shooting range in Nevada. Their VIP experiences takes shooting to the next level, with a private hostess in your VIP Suite, a  bar, LCD TV, private restroom facilities. Each agent got to actually experience the shooting experience, so that they could share with their clients.
Next stop Bali Hai Golf Course to show off their ceremony location and their reception facilities. Passed Hors d'oeuvres and signature cocktails were served as everyone took in the beautiful scenery and blowing palm trees. One more stop to go before the group could take a break before dinner. The next stop was Legends Ranch. A uniquely natural picturesque Venue for your Event, Non-Profit Gathering, Traditional Christian Ceremony, Reception, or Full Day Wedding location. Events at this Estate Ranch setting create a charming Outdoor Farm Event or Barn Wedding!  
The group was able to go back to their hotels for a a little while to freshen up, check emails etc. The finale of the evening was dinner at the Link Promenade at Virgil's BBQ.  We had a preset menu that consisted of appetizers, such as Trainwreck Fries and Fried Pickles.  Entrees were Pulled Pork and Beef Brisket with sides of Cornbread, Mac & Cheese, Cole Slaw and Grilled Veggies. All of this was served family style!  To round it off  amazing desert platters were brought out with the chef;'s  specialities ! Fantastic food, great customer service and a fun time by all.  Now off to see Magic Mike Show. This is aa male review show, but so much more than that. It was a Dance Review not a strip show. These gentlemen are pure dancers. The choreography is amazing. You are actually seeing a story line thru out the show. They have many numbers with groups of gentlemen and a few solos. There are many creative features and props used throughout the show. Having a woman Emcee, was great and she surely kept you laughing with her innuendos, jokes and storytelling. The gentlemen in the group enjoyed this show too, and see the value of selling it to future client for Birthdays, Weddings, Bachelorette or just fun in Vegas. By the end of the show, everyone was ready for their beds, as tomorrow started on another journey!
Day three.............here we go..........
The segment was in partnership with LVCVA Laughlin, which assisted in setting up all the stops at the host hotel property Don Laughlin's Riverside Resort. We stared for our breakfast at The Restaurant located inside the historic Boulder Dam Hotel. Good food, friendly service in a quaint atmosphere. We enjoyed the tour of the historic hotel and saw the amazing historic rooms!  Our day was filled with seeing Downtown Boulder City, the Hoover Dam Lodge for a site inspection, Boulder Creek Golf Course for lunch, Forge Social House, VORE, and Pro Gun Vegas all before we headed to Laughlin.  After checking into our hotel we headed off to Harrah's Laughlin for dinner . Desert was provided on The Celebration , a replica of a Mississippi paddlewheeler that hosts small weddings, and receptions, featuring the Colorado River as its backdrop.
Day four........ Rise and shine  for an early start!
Breakfast at Aquarius Casino and a site inspection of the property!  Then off for a journey to Oatman. This is a 1900 historic gold and silver mining town where wild burros and shot gun-style weddings can still be found today!  For those seeking a bit of adventure, this location is a hidden gem resting along Route 66, where Clark Gable and Carol Lombard spent their honeymoon.
Off to Laughlin Ranch Golf Club.  Continuing on to Tropicana Laughlin where we saw ... and had a wonderful plated lunch.
The finale of this day was on  the USS Riverside Resort Cruise, where there is daily narrated excursions which detail the many features of the region. Designed to travel under the Laughlin/Bullhead City Bridge to Davis Dam, and with shaded upper deck and climate controlled lower deck, this is a comfortable and scenic way to enjoy the resort community during a scheduled cruise or as a charter for weddings and private parties.
We departed for Las Vegas and enjoyed the ride back. We had made some lifelong relationships over the past few days, and business partners. We dropped some of the group at the airport and some back at their hotel, as they were staying one more night in Vegas.
Truly a time to remember!!!