The Wedding Merchants Business Academy (WMBA) has made its yearly visit to Las Vegas. What more appropriate to have a wedding Convention in the Wedding Capital.
LV Wedding Connection has been involved with the WMBA since its start in Las Vegas in 2009. The attendance was 400, and has developed into a much anticipated, and attended educational conference of 4,800. Nevada Weddings and LV Wedding Connection started an annual chapel tour to enable an exclusive of attendees a firsthand experience of a taste of the Las Vegas Wedding Industry. Every year the tour showcases something different in the itinerary. It is usually 3-4 hours, starting right after the convention is over on the first night. This year the tour started with the first stop at Planet Hollywood restaurant inside Caesars Palace Forum Shops, where they showcased their private wedding reception area, with amazing appetizers and drinks for all. Our host discussed the wedding ceremonies on the patio and everyone received a SWAG bag upon departure. We were then off to show these wedding professionals a typical Vegas wedding chapel. We visited a Garden indoor setting, as well as a themed Casino Chapel that houses a fish tank in the shape of a slot machine, which was built for the show "TANKED". Then off to a boutique tux and gown rental shop to sip champagne, hear how easy it is to have our Brides and Grooms rent formal wear, and the grand finale, a choreographed Fashion Show of the newest trends in the Bridal/Tuxedo wear.
After the oohs, and aahs, everyone got back on the "DISCO BUS" which was the transportation for the evening. This vehicle seats 40 and has a real stand bar, professional 4000W sound equipment, equipped with a live DJ, wireless microphones for speeches and karaoke, Six 30" TV's, 12,000 multicolored LED lights, Powerful laser and lights how, Dance pole, Smoke machine to create a nightclub atmosphere and an LED scroller to personalize the bus. A few last-minute attendees were escorted in the stretch limousine, as the bus was completely full.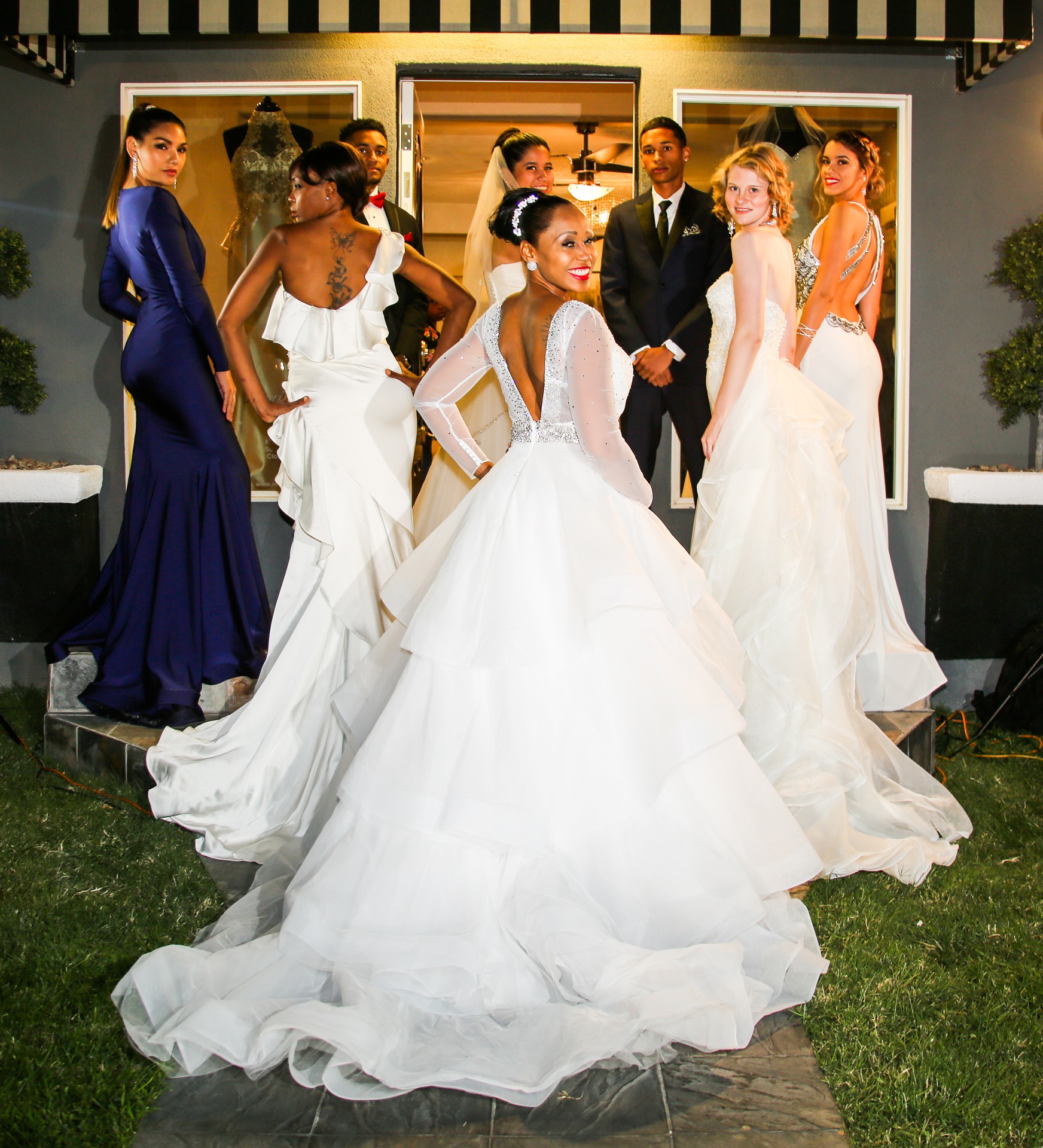 The last stop on the tour was VIVA LAS VEGAS WEDDDING CHAPEL. My guests were wowed when one of the couples on the tour were whisked away to rejoin us in a pink Cadillac. It was driving them into the chapel. Yes, the pink Cadillac was driven by Elvis, down the aisle, inside the chapel, with fog, and neon lights to welcome them. Our couple participated in a mock ceremony and danced to Viva Las Vegas, which Elvis serenaded. Everyone returned by 10pm to get a good night's sleep, and be back up the following day at the Convention Center at 8am. Another successful year tour....................already thinking about next year!
LV Wedding Connection also had a booth at the convention on the Trade Show floor, where we had the pleasure of meeting Wedding Planners from around the world. The education you learn at this conference, the relationships you build are such a necessity to your business. We love the WMBA and look forward to next year's Conference and Chapel Tour. Our partners are already putting in their requests to participate in the annual Chapel Tour so they can showcase their products and properties. We try to always show something new and exciting for the wedding professionals to enable them to learn more about Las Vegas, which will enable them to sell Vegas as a Destination Wedding. LV Wedding Connection works with Wedding Planners, Travel Agents, Tour Operators all over the world, enabling a partnership to all. Referral programs are in place, and love to set up new partnerships!
Contact :
Joni Moss-Graham
LV Wedding Connection
702-941-1889
www.lvweddingconnection.com
joni@lvweddingconnection.com