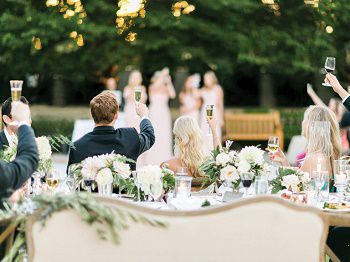 Remember when you were kids and you roller skated together?
…..put make-up on each other?
…..stayed up late and talked about boys?
…..laughed over silly things and cried over what we thought was the end of the world?
Well now you are the Maid of Honor, and you have been asked to give a toast at the wedding
……You are not really sure what to do
…...you never liked speaking in front of people
…...now you have to speak at a very important occasion; not to mention speak about someone you love dearly
Many people get this request and are unsure of how to handle it!
Here are some tips to remember when preparing for this commemorative event
1. Before the event….think about what you might want to say. A memory is good to reflect upon, but remember to stay positive by avoiding any embarrassing or negative thoughts.
2. Speak slowly and clearly…..take necessary breaths and pause at the end of every sentence. You want your thoughts to be understood.
3. Limit the toast to about three minutes.
4. Some people don't want to get too emotional, so their toast is on the comical side. Think about which way you want your toast to be received.
5. When it is time to give the toast, stand up with your glass of champagne or sparkling cider in one hand partially raised. Then introduce yourself, glance around the room to make you as well as the guests comfortable, and then focus on the Bride and Groom.
6. To finish the toast, ask the group to raise their glasses in honor of the couple. You raise your glass, then everyone will clang their glasses together, take a sip of their beverage, and finally you can sit down.
7. Mission accomplished!