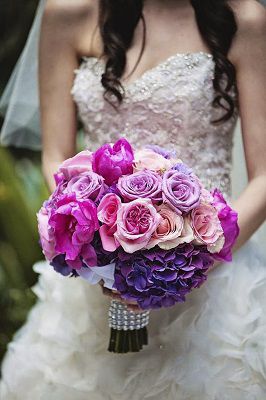 Flowers hold a very special place in weddings and events. They add a certain flavor to the event by adding different colors, contrasts, shapes and sizes. They are not necessarily the first things that are chosen, but definitely not the last. The colors that the Bride has chosen will be carried out in the theme of the wedding. The flowers always reflect that decision, even if you have not seen any other decorations yet other than the flowers.
The choice of the flowers may even begin during the courtship…during one of the exciting days in a new relationship, flowers arrive at "her" job…from the new man in her life. Sometimes the first flowers that are received are the same floral choice that is used in the wedding as a memory of their beginning together. Whether it is the same color or the same flower…a woman never forgets these things.
Flowers do have specific symbolism and meaning. The colors chosen also have specific meanings, but a Bride always remembers the flowers that were sent to her. Flowers can be used for many components of a wedding such as sending flowers to the Bride or Groom the night before, during the wedding itself, a Corsage to be worn at the Bridal Shower, or a Balloon Bouquet Centerpiece. The wedding flowers can be far more than the Bridal Bouquet, the Boutonnieres, and the Corsages. The Bridal Bouquet is always an important part, but keep in mind that there are Flower Girl baskets, the decorations of the facility where the wedding is held, and the decorations where the reception is being held. In the chapel, even the alter can be adorned with florals, the pews can have bows or fresh flowers on the end of each of them. The Candelabras that are used for a Unity service can have florals on the base under the candles. During the ceremony, an arch might be requested, and that too can be decorated with fresh or silk florals. Finally, don't forget the honeymoon…adorn your honeymoon suite with rose petals strewn across the room for a romantic flair.
Remember that certain flowers are seasonal and may be unavailable to us here in the desert. If we can obtain them - it may be at a very high price. We are an "EVENT TOWN", therefore sometimes our local providers are sold out. The large events that come into town often order a large volume of flowers, and may wipe out our supply. The free standing chapels usually carry the basics….red, white, and pink roses….
The hotel chapels usually have upper scale flowers such as lilies, other color roses, gardenias etc. that may be included in their packages. You need to consider, "What do you really want" and prepare to order ahead for specialty flowers and colors. Please keep in mind because we are in the middle of the desert, our prices are often at a premium.