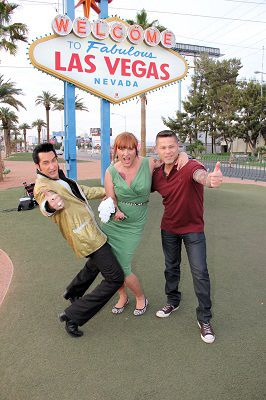 Have you ever thought of getting married in Las Vegas? I am sure you have...everyone has. It is the wedding capital of the world! Las Vegas Wedding Chapels have been portrayed in a certain light in past decades, but times are constantly changing. The chapels are consistently reinventing themselves. The old-fashioned photos of someone knocking on the door in the middle of the night, with the husband and wife chapel owners answering in their pajamas to marry the happy couple are long gone. We have elegant facilities that are very traditional, as well as the lighthearted chapels too. We are the most fun and economical place to get married!!! This town has opportunities for everyone that range from a Walk up Wedding Window, a Drive up Wedding Window, to Elvis Weddings. The sky is the limit! We have anything you can image from getting married by Helicopter in the Grand Canyon, dressed as your favorite Character, get married on a Gondola or even perform nuptials on a Pirate Ship.
The Las Vegas Wedding scene has expanded from just strip chapels to luxurious hotel chapels, Golf Courses, Hotel Suites, Themed locations, the Famous Las Vegas Sign, and other local attractions. Several free standing chapels have changed their philosophy about just being a numbers game and want to create a "Vegas experience" to be remembered. They are staying on the cutting edge by implementing webcasting and Skype to interact with relatives or friends that cannot attend. They offer reception facilities on property with full event catering capabilities, and even tux and costume shops for you to rent your attire.
The Banquet and Catering departments of hotels have seen larger groups wanting their "reception" in the banquet facilities, and some of them in their local restaurants. Again, the cost varies from location to location, depends on the amount of people that will attend, and the time of the day your event will occur.
We are seeing larger groups coming to Vegas, formerly it was mostly smaller groups or just couples coming by themselves to get married. There is still a large percentage of couples that come on their own to get married. However, they discover once they inform family or friends that they are going to Vegas, everyone jumps on the bandwagon for the event. This is often the case with our Southern California travelers. The days of the $25,000 wedding still exist, but you can have a large group attend your wedding, have a fine dining reception with all the trimmings, DJ, flowers, photos, limos etc. for a portion of the cost in Vegas. Furthermore, we have the perfect place for the last night of singledom. There is something for everyone, whether it is a Bachelor or Bachelorette party. The ladies can enjoy the ever popular Chippendales or Thunder From Down Under exotic male revue, or even enjoy taking a Stripper 101 Class. Finally, there are numerous Adult entertainment locations for men. Once again the cost is not prohibitive.
The best part is that you can start by having your Bachelor/Bachelorette party, next your wedding, and finally your honeymoon in one convenient location. Meanwhile all of your guests not only get to share the most important day in your life, they can also enjoy having a vacation for them…. All at a fraction of the cost of other destination wedding locations. "Vegas Baby!"… We can bring your vision to life.