Las Vegas is known for its "Chapel" weddings but there is so much more here! Not many people realize the jewels of the desert.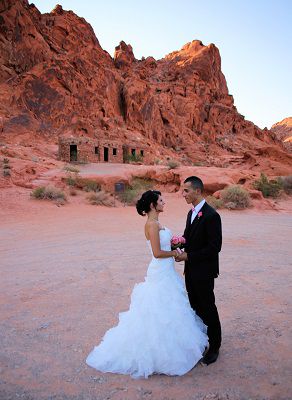 Weddings can be performed with the beautiful scenic backdrop of Red Rock or the gorgeous Valley of Fire. Travel to these locations in a limousine, a jeep, or your own vehicle. Red Rock does require a permit purchased from the Bureau of Land Management, for every wedding performed in the Scenic Loop. The Valley of Fire requires a reservation at the park, to be called in and scheduled by the Bride or Groom, however no permit is necessary. If you schedule the wedding through a consulting company that does many weddings, then a permit is needed by that company. They purchase them on a yearly basis.
Helicopter weddings are on the rise. Get married as quick as a "Strip Trip" which means married over the neon lights of the strip. You can also be married in a helicopter over the Grand Canyon. There are some Grand Canyon helicopter trips where you fly in and actually land at the bottom of the canyon. Once there, you will be able to enjoy some beverages and snacks. The pronunciation of husband and wife is done in the air on the Nevada side before you land, in order to facilitate having an officiate from Nevada.
How about getting married in a Chopper Chapel with Motorcycle memorabilia? We have that too! The Volcano at the Mirage provides a beautiful backdrop. Imagine having your ceremony at the Eiffel Tower at Paris Las Vegas. Gondolas are another romantic way to be married right here in Vegas. You might feel as if you are in Venice without ever having to catch a plane. This can be done at the Venetian Hotel as well as out at Lake Las Vegas. Enjoy a serenade at dinner on the sunset cruise. If you are seeking something unique you can't beat getting married on the Roller Coaster at the very top of the Stratosphere Hotel, the Zip Line at Fremont Street or even the enormous fish tank at Silverton…..these are all locations for your very special day!!
Choose your own desired location... almost anywhere... you can imagine! Some facilities will charge you a location fee, others will not, while some will not let you get married there at all. Do not assume that all locations are available, it is better to investigate the location ahead of time. The following is a list of other possible locations to consider:
The Pirate Ship at Treasure Island
A private room at your Suite or Restaurant
Helicopters and Small Private planes
The Fabulous Vegas Sign
The Volcano at The Mirage
A Gondola at The Venetian
The Zip Line
A Helicopter
The Chopper Chapel at the Harley Cafe
If you can dream it, we can convert your dream into reality. Please feel free to contact me if I can assist you with your Vegas Wedding plan!!